Larnaca Airport Departures (LCA)
Not all flights may be showing. If not available use search above to find your flight by airline, airport or flight number.
Destination
Airline
Flight no.
Scheduled
Est./Actual
Status
Milan (MXP)
Cyprus Airways
CY342
04:40
Scheduled
Haifa (HFA)
Universal Air
VO554
05:05
Scheduled
Munich (MUC)
Lufthansa
LH1769 expand_more(1)
05:10
Scheduled
Munich (MUC)
United Airlines
UA9375
05:10
Scheduled
Vienna (VIE)
Austrian Airlines
OS832
05:25
Scheduled
Athens (ATH)
Aegean Airlines
A3913 expand_more(2)
06:10
Scheduled
Athens (ATH)
Cyprus Airways
CY4034
06:10
Scheduled
Athens (ATH)
Olympic Air
OA6913
06:10
Scheduled
Yerevan (EVN)
Wizz Air
W64557
06:20
Scheduled
Vilnius (VNO)
Wizz Air
W68044
07:05
Scheduled
Abu Dhabi (AUH)
Wizz Air
5W7006
07:05
Scheduled
Tel Aviv (TLV)
El Al
LY5134
07:10
Scheduled
Cairo (CAI)
Egyptair
MS742 expand_more(2)
07:10
Scheduled
Cairo (CAI)
Ethiopian Airlines
ET1453
07:10
Scheduled
Cairo (CAI)
Etihad Airways
EY4961
07:10
Scheduled
Dubai (DXB)
Emirates
EK110 expand_more(1)
07:20
Scheduled
Dubai (DXB)
Qantas
QF8110
07:20
Scheduled
London (LHR)
British Airways
BA663 expand_more(1)
07:35
Scheduled
London (LHR)
American Airlines
AA6645
07:35
Scheduled
Basel (BSL)
easyJet
U21262
08:15
Scheduled
London (LGW)
easyJet
U28658
08:15
Scheduled
Vienna (VIE)
Lauda Europe
FR707
08:25
Scheduled
No flight departures were found at Larnaca Airport.
Flight Departures at Larnaca Airport
Larnaca Airport is the main international gateway from Cyprus and if you are planning to fly from Larnaca you will find flights to a variety of European and international destinations, including Munich, Athens, Moscow, Vienna, Tel Aviv, Cairo, Dubai, London and Bristol.
Many of the major airlines fly out from Larnaca Airport, such as British Airways, EasyJet, Cyrpus Airways and Lufthansa and Emirates.
There is one main terminal at the airport and Departures can be found on the upper level. In addition to online check-in or using the traditional check-in desks at the airport, those travelling with Aegean, Lufthansa, EL AL and Aeroflot airlines can also take advantage of the self-service check-in kiosks. There are eight in total and they are located on both sides of standard check-in area.
If you use this service and are travelling with luggage you will then need to take it to the bag drop-off desk for your chosen airline.
Was your flight delayed or cancelled?
You may be eligible to receive up to 600 EUR compensation per person in your party..
Claim Now!
Beat the Queues
Don't stand sweating for 45 mins waiting for Security. Get a fast track and get through in 5 mins or less.
Book now
Lounge like a VIP
Avoid the crowds. Get discounted access to the VIP airport lounge. Its not as expensive as you may think.
Book now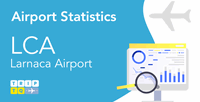 Record-Breaking Q3 2023 Passenger Growth of 27.74% at Larnaca Airport, Surpasses Pandemic Levels