Larnaca Airport Arrivals (LCA)
Not all flights may be showing. If not available use search above to find your flight by airline, airport or flight number.
Origin
Airline
Flight no.
Scheduled
Est./Actual
Status
Vienna (VIE)
Austrian Airlines
OS831 expand_more(1)
04:40
Scheduled
Vienna (VIE)
TAP Air Portugal
TP8717
04:40
Scheduled
Thessaloniki (SKG)
Aegean Airlines
A3546 expand_more(2)
05:20
Scheduled
Thessaloniki (SKG)
Cyprus Airways
CY4000
05:20
Scheduled
Thessaloniki (SKG)
Olympic Air
OA6546
05:20
Scheduled
Paris (CDG)
Cyprus Airways
CY381
05:20
16:55
Landed
Luton (LTN)
Wizz Air
W64459
05:35
Scheduled
Gudja (MLA)
Emirates
EK110 expand_more(2)
06:05
Scheduled
Gudja (MLA)
Air Malta
KM2108
06:05
Scheduled
Gudja (MLA)
Qantas
QF8110
06:05
Scheduled
Cairo (CAI)
Egyptair
MS741 expand_more(1)
06:10
Scheduled
Cairo (CAI)
Etihad Airways
EY4960
06:10
Scheduled
Heraklion (HER)
Tus Air
U8729
06:10
Scheduled
Abu Dhabi (AUH)
Wizz Air
5W7005
06:30
Scheduled
Vilnius (VNO)
Wizz Air
W68043
06:30
Scheduled
London (LHR)
British Airways
BA662 expand_more(1)
06:45
Scheduled
London (LHR)
American Airlines
AA6605
06:45
Scheduled
Liege (LGG)
Challenge Airlines BE
X7504
07:10
Scheduled
London (LGW)
easyJet
U28657
07:30
Delayed
Tel Aviv Yafo (TLV)
Israir Airlines
6H581
07:40
Scheduled
Mulhouse basel (BSL)
easyJet
U21261
07:40
Scheduled
Athens (ATH)
Aegean Airlines
A3906 expand_more(4)
07:55
Scheduled
Athens (ATH)
Bulgaria Air
FB1551
07:55
Scheduled
Athens (ATH)
Cyprus Airways
CY4029
07:55
Scheduled
Athens (ATH)
Emirates
EK4980
07:55
Scheduled
Athens (ATH)
Olympic Air
OA6906
07:55
Scheduled
Vienna (VIE)
Lauda Europe
FR708
07:55
Scheduled
Pisa (PSA)
Toyo Aviation
TOY223
08:18
Scheduled
No flight arrivals were found at Larnaca Airport.
Flight Arrivals at Larnaca Airport
Larnaca Airport is the main airport in Cyprus with more than 5 million passengers travelling through its terminal every year.
A whole host of major airlines operate services to Larnaca including Emirates, Blue Air, Olympic Air, EasyJet and British Airways, with flights arriving from destinations around the world, including Dubai, Israel, Germany, Russia and the UK. If you are planning to travel from the UK to Larnaca you will find you can take a flight from both London and Bristol.
Arrivals is located on the ground floor of the single terminal building of the airport and from there you can take a taxi or a bus to the city of Larnaca or, with the motorway situated conveniently nearby you can hire a car from one of the many car hire companies based at the airport, including Europcar, Hertz and Avis.
Was your flight delayed or cancelled?
You may be eligible to receive up to 600 EUR compensation per person in your party..
Claim Now!
Beat the Queues
Don't stand sweating for 45 mins waiting for Security. Get a fast track and get through in 5 mins or less.
Book now
Lounge like a VIP
Avoid the crowds. Get discounted access to the VIP airport lounge. Its not as expensive as you may think.
Book now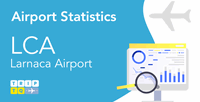 Record-Breaking Q3 2023 Passenger Growth of 27.74% at Larnaca Airport, Surpasses Pandemic Levels